Explore Feuilletons
A Bundle of Tkhines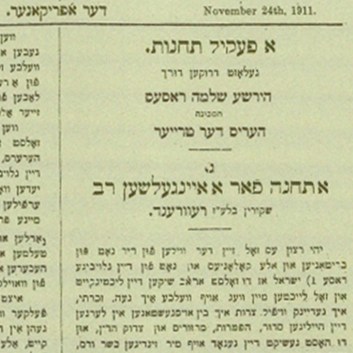 Abstract
This feuilleton was written by Yankev-Azriel Davidzon, a Yiddish journalist and prose stylist active in Johannesburg in the early 20th century. Published in "Der Afrikaner" ("The African") on November 24, 1911, this piece exemplifies Davidzon's wit and style, which he based on Yiddish press models grounded firmly in the Eastern European Jewish media landscape. Davidzon's feuilleton gives us a glimpse of Yiddish-speaking immigrant life in a colonial African society riven with class-based and racial divisions.

Title (original)
א תחינה פאר אן ענגלעשען רב, שקורין בלעז 'א רעווערענד
Title (transliterated)
A Tkhine far an Eynglishn Rov sh'korin b'la'az "a reverend"
Place issued
Author
Newspaper
Language
Keywords
Jewish tradition, non-Jews, immigration, immigrants, Russian Jews
Original Text
Translation
Yankev Azriel Davidzon, "A Bundle of Tkhines," 1911. Translated by Veronica Belling
A Bundle of Tkhines printed by Hirshe Shloyme Rases (ראססעס) also known as Harris the Tryer
A Tekhina for an English Rov Called in Loshn La'az a "Reverend"
Read Full

May it be Thy Will, Oh God of Britannia and of all the colonies and of Thy chosen race Israel that Thou should send down Thy light to illuminate my way. I remember how I suffered learning Thy holy siddur, hafteyrahs, makhzeyrim, and funeral rites, and Thou had mercy on me, sinful flesh and blood, whose sins were red as crimson, as it is written in Thine holy hafteyrah, "Be your sins like crimson" and Thou made them white as snow. "They can turn snow white."1 And I remember how I panicked when I took the examination. God forbid my tongue should stumble, but Thou, the all powerful, had mercy on me and gave me a white collar, to demonstrate that my sins had become white. And in the examination Thou gave me such a swift tongue, as fast as the horses at the Derby, the pride of Thy blessed people England. I beg Thee, Thou should extend Thy mercy and not abandon me.

When I go as Thine emissary to a funeral or to visit the sick, let the house be free of sick or dead people, let it be healthy and strong, to carry out Thy work, as it is written in Thine holy book, "Build Thy house as in days gone by." Thine house should be healthy as in former days, healthy and strong, so that I should find favor with them and with everybody, so that they should invite me to picnics, parties, or wherever they play, sing, dance, play bridge, nothing else but bridge, the game of Thy holy people England, not "Sixty Six," or what interests the members of the associations.

When I go up onto the bima to daven, and when I give a sermon, please keep the Russian Jews, who are not civilized enough to understand the mission of a Reverend, far from me. I remember how they used to mock and laugh at me, Thy servant, because I know nothing of the ancient book that they call "The Talmud."

When I have to give sermon, as when there is a sermon in a church, please would you give the listeners a sense of propriety, both Thy blessed people, England, and Thy Chosen People, Israel, so that they should applaud my every word, so that I should be regarded as one who fulfills the "Mission of Israel." Send some sense to my synagogue leaders and gaboyim so that they should put away their needles and their machines and come to hear how gentlemen applaud Thy servant, so that they should increase my wages. I should be able to serve Thy name with goodness.

On behalf of all the nations of the world, I wish that they should all walk in the ways of truth and beauty and sincerity in the ways of Thy blessed people, England. Let the sport of horses and dogs, boxing and cricket, golf, tennis, football, and all other precious gifts that Thou hast bestowed upon Thy blessed people, England, flourish among them. Send them good sense so that they should not encourage Thy Jews, who study their book that they call "The Talmud," to come to the blessed land of England and make a figure of fun of reverends. And if they should come, send them the spirit of civilization, so that they should forget their Talmud, and walk in our ways. And I hope that you will fulfill the request of my lips and my eyes shall witness the return to Zion. Amen.

1) We don't say the "folk" Israel, God forbid we should make enemies of the gentlemen, our brothers, the English "folk."

2) One should pronounce the "ז" from Zion so as not replace it with a "צ" in error and make it seem that we actually mean emigration to "Tzion."