Explore Feuilletons
The Valley of Cedars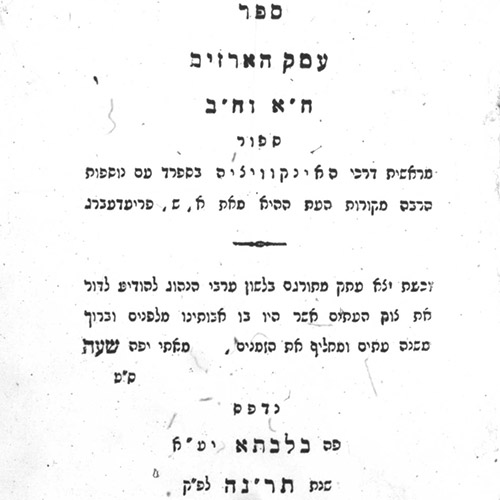 Abstract
Calcutta-based rabbi Solomon Twena published this translation of the young Sephardic Englishwoman Grace Aguilar's historical romance "The Vale of Cedars" in the literary supplement of his Judeo-Arabic newspaper "Magid mesharim" (The Speaker of Truths). Twena based his translation on Avraham Shalom Friedberg's Hebrew translation, and includes Friedberg's additions to the story, including this dramatic excerpt.

Place issued
Author
Newspaper
Language
URI
Related Text
Keywords
Sephardic culture, Inquisition, persecution, translation, antisemitism, fiction, roman feuilleton, Vale of Cedars
Original Text
Translation
Grace Aguilar, Solomon Twena (translator), "The Vale of Cedars," 1892. Translated by Lital Levy
One of the guards walked with him, lighting the way ahead of him until they reached the door of the chamber where Sebastian was imprisoned. The guard unlocked the door. The doctor (al-daktur) took the lamp and told him to take care of his business and come back in an hour. Over a worm-ridden mound of hay giving off a stench of rot, surrounded by garbage, was a pile of torn rags left atop a naked and beaten-up body. Its face is white, drained of blood; its eyes are darkened; the hair on its head has gone white; its toes and feet are smashed.
Read Full

Trembling and shivering, the doctor bent down towards the body, his strength failing from the fearful sight. He began weeping behind his face cover, and lamented: "Is this really Sebastian the hero (Ma hadha huwwi Sebastian al-gibor)? Is this the end of all heroes in our clan, in this country ruined by sycophants and informers? Ya hayf – For shame. The precious sons of Zion, comparable to fine gold, how are they esteemed as earthen pitchers, the work of the hands of the potter!"1

Just then, he pulled a flask from his pocket, rubbed some of it on his temples and applied it to his nostrils. When the wounded man smelled the perfume's fragrance, he came to and roused himself from the sleep of death brought upon him by his great injuries and pains. He sighed, took a breath, and shouted in a weak voice, "Water! All my joints are burning." The doctor poured some liquor into his mouth. At that moment, his spirit returned to him and his eyes lit up like the light of the lamp in his cell. But when [the doctor] lifted the cover from his face, he was stricken with fear and his eyes darkened. The doctor's heart fired up inside him, and his joints began to shake. Such was his distress that he forgot about those standing nearby; he cried out from the depths of his heart, and began to recite the lamentation of Rabbi Judah Halevy:


	"How can I take pleasure in food and drink
	When dogs are dragging your lions with their teeth?
	How can the daylight to my eyes be sweet
	When those eyes see eagles caught in ravens' beaks?"

The voice wasn't strange to the wounded man. At that moment he opened his eyes to see who among his friends and acquaintances2 was covering himself with a wrap and walking disguised in these caves. Just then, the doctor removed the covering from his face.

"Julian!" the wounded man shouted. "Sebastian, my uncle!" the doctor cried, kissing his uncle's cold hand. "Woe to me (ya wayli) that I've seen you in this frightening state." "How lucky I am, my nephew, that you saw me like this," the wounded man replied, "since God, may he be praised (ha-shem yitbarakh), fortified my heart, and I did not reveal your secret even in my distress." Julian could not restrain himself and began sobbing upon his poor uncle ('ala 'ammo ya miskin).

Julian's soul could not stand firm against the grief, heartache, and heavy sobs. Sebastian asked him, "Why did you abandon the Vale of Cedars (Emek ha-Arazim), what brought you here, and what is your business in this oppressive place?"

Julian told him, "Give me some time and I will come back to all your questions." He soothed his heart, and then spoke to him, saying, "As you know, ever since I saw my hope parting from the world, I made my heart give up on the life of toil in this world. It was my intention to seek out and find the path of the padres and their corrupt deeds in order to take my revenge and extract vengeance from them for the killing of my father, and today it has been twelve years. It has been twelve years since I left the Vale of Cedars, and from that day until this very moment I have been wandering in this world. I've given up even my eyes' sleep to redeem my father's blood from his killers' hand, since my father's blood howls to me from this accursed land. Woe, woe! For what did they fill up the ground (erets) with our blood? There is in it the blood of our glorious brothers, who gave their souls up to death for the sake of the Lord, may He be praised ('ala kedushat Hashem yitbarah), and for the succor of their forefathers. And today I have been wandering for a month in the caves of these people in order to fulfill my purpose.

To my great misfortune, I saw how these unjust people brought you here and how you were counted among the holy men of our people (al-maqdishun li-ahal qawmuna). My eyes witnessed your torture, and how you gave nothing away, revealing neither your nephews' hideout nor their hidden property. Seeing you like this, my heart shattered inside me, my insides howl like the roaring sea, because I am flesh of your flesh and bone of your bones, and they crushed your flesh and your bones. They tore your body apart like old rags and showed you no mercy. Woe to me (ya wayli)! How can I live after seeing what I've seen? How can I console myself after what my ears have heard?"

"You still have time, my nephew, to cry over me, to lament your poor uncle, who is being tortured with a broken soul. However, it is for my house that I had to suddenly abandon that my heart screams. I did not counsel them, nor bless them. How can I do something for my poor family? And what will become of the affairs of my only son? Who will inform him and explain to him that he is a Jew, descended from the offspring of Judah? Who will make him aware of how to follow my path and walk in the ways of his holy fathers (abhathu al-kedushim)? Who will teach him and lead him in God's trust (emunat el)? Who will guide him and instruct him in the religion of God and His law (bi-torat el wa-bi-shari'u)?"

Julian replied: "Calm yourself and do not worry. I will become the father of your house and comfort your poor family. I will take care of your son and keep my eye on him. I will take him with me to the Vale of Cedars, and there I will teach him, guide him, and instruct him the law of God and His religion and faith (bi-shari'at el wa-fi toratahu wa-al-emanathu)."

"No! No! my nephew. God forbid that you rush into that too quickly, while he may be still ignorant and unable to keep the words hidden in his heart, and would reveal our secret. Our cover will be blown and we will all perish. He is clever, big hearted, and a quick learner. His soul will not be able to contain it, so he will also be brought into these caves, and then who knows how he will end up. I ask of you only one thing, my nephew: that you swear to me by God, if you want to soothe me and settle my spirit and calm my bones before I die, that you will not tell him our secret until he reaches the age of twenty-five, since at that time he will be able to keep it hidden. I know very well that he will grow up, become a man, and inherit the soul of his forefathers. His deeds will raise him to prominence in the eyes of the monarchs and rulers. At that moment, take your time to teach him and show him who he is, who his parents are and what his father's end was. Immediately, his eyes will be opened, he will see a strong light in this world, and he will be able to carry his anger and his pain and do his work thoughtfully, and will not be hunted into this vicious trap. From this world he must remove these tyrannical judges who rule from underground. Then, my crushed bones will delight that their revenge has been taken, and my heart will rejoice that it saw vengeance. The blessing of a lost and destroyed father, my nephew, will come upon you."
Linked Resources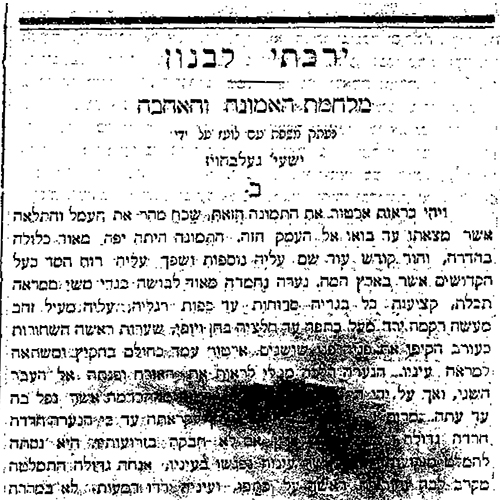 The War of Faith and Love
Related Text
Text