Explore Feuilletons
The End of the Century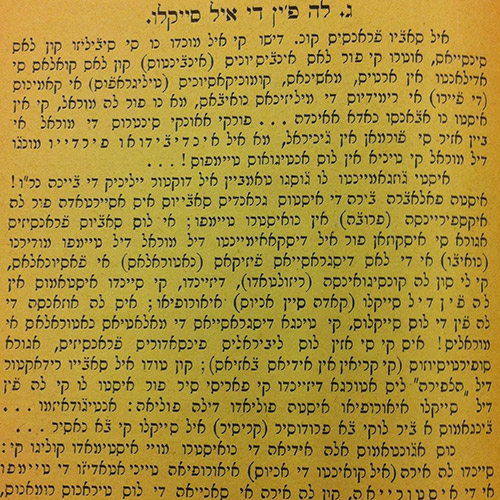 Abstract
These two Ladino feuilletons ("On Antisemitism" and "The End of the Century") were written by Ottoman maskil Barukh Mitrani, a rabbi and intellectual who sought to bridge between East and West in the Jewish diaspora. Mitrani combines aspects of feuilletons and traditional sermons in these texts as he criticizes elements of modernization and modern antisemitism.
Author
Newspaper
Language
Related Text
Keywords
modernity, modernization, East, West, Jewish tradition, antisemitism
Original Text
Translation
Barukh Mitrani, "The End of the Century," 1891. Translated by Tamir Karkason
The French scholar Con.1 claimed that the world did not become civilized owing to the sciences. On the contrary, the inventions – with all the advancement they have brought in arts, machines, communication means (telegraphs) and routes (of the railroad track),2 and cures for new diseases – did not [bring advancement] to morals, regarding which nothing has advanced at all... For, while generally centers of moral have come into being, the individual has lost much of the moral he had in ancient times!
Doctor Jellinek3 of Vienna also expressed this opinion. This word of truth of the great scholars is ascertained by the experience of our time; and the French scholars are now apologetic for the decline of morals in our modern period and for the physical and spiritual miseries that it led to, claiming that these miseries are the result of us being at the end of the century in Europe; it is the habit of the end of the centuries to bring with them the misery of natural and moral illness! Now the liberal French thinkers are making themselves out to be superstitious (who believe in empty ideas).
Yet, the wise editor of HaTzefirah4 confessed that it seems to him that existing in Europe at the end of the century is like rolling a wheel (polea): [a wheel called] Anti-Judaism (antidjudaismo). We will see what the new century that is about to be born will produce...
To this idea of our very esteemed colleague [Sokolow], we would like to add the following: Since the European era is related, in time and in history, to the rage and fury of the Roman tyrants, who, alas, destroyed our temple and dispersed our nation, we have a reason to hope that the end of this European century – one that began and continued with cruel Anti-Judaism – may improve our situation in the European world, since we have heard how very important governments and peoples such as the English, the Americans, the Italians, and some Dutch and Germans, rise against the tyrannical Anti-Judaism! [...]
Linked Resources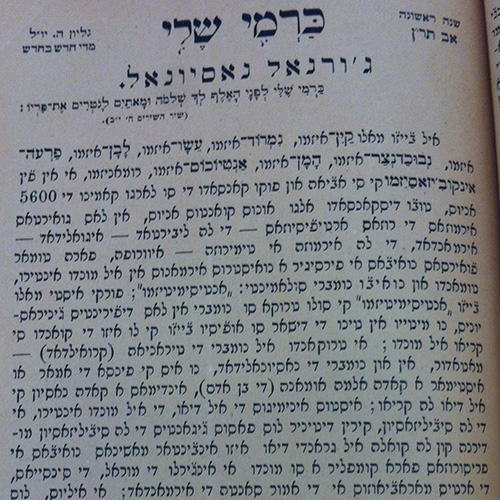 [On Antisemitism]
Related Text
Text